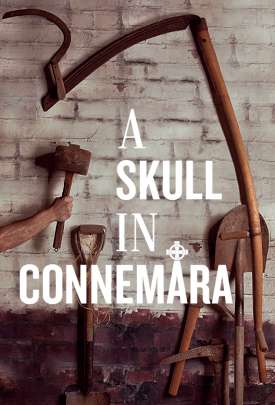 A Skull in Connemara | 2010/11 Season | Lantern Theater Company
I cannot wait to see this Saturday night with my daughter and her friends. I will review after the show and update you here.
UPDATE: Ok, we saw it and laughed our faces off. There are times NOT to read a play ahead of time, and this was one of them. I think I still have bones in my hair, and now I know there should not only be a warning about possible smoking on stage, but a directive to PLEASE WEAR GOGGLES to this show if you value your eyesight just the tiniest bit. Since it is an extremely small, black box theatre, everyone got hit with a bit of skeleton. After all, they have no room left in Connemara, so we may as well take the remains home with us.
Jake Blouch was a true delight as Mairtin, he was a fresh face to the Lantern Theatre Company and I hope they bring him back for more, once they fix his skull and clean him up a bit. Completely engaged in his character, his lewdness and moronic demeanor kept us alternately gasping with horror and hilarity, especially when he became particularly intimate with a pair of skulls. Stephen Novelli was equally impressive and also new to the company, I plan on following his career to see what else he shows up in. As the play progressed, his character (Mick) was pulling on our heartstrings one moment, then shocking us with his swaggering show of bravada and might in the next. I could not believe I was seeing the same Jered McLenigan I saw in
Taming of the Shrew
and
Henry IV Part I.
I do believe it is time for him to update his program photo, I didn't recognize him either time, he is good at either not looking like his picture, or else the extremely short haircut was throwing me off. McLenigan's too-tight, too-short pants reminded me of Queen's lead singer, Freddie Mercury. He was also quite adept at strutting around the stage playing Thomas Hanlon, the man we LOVE to hate because he is just that good at being a nasty bugger. Ellen Mulroney's back was to us most of the play, which I think is an oversight in blocking, normally the Lantern manages those bits more effectively, so I don't feel up to giving her Maryjohnny any kind of review. I could not see her face. Trust me, the merest expressions on the other three actors would carry this show even if the script wasn't as hysterical as Martin McDonagh could make it, with the digging up of one's own wife and all the bones being flung about. The choice of actors is a triumph for director Kathleen MacMillan. I only hope they don't run out of bones before the end of the run. It is a shame it is only a three-week run, I would LOVE to go back and see it again.